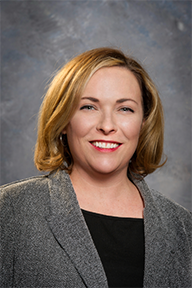 Director of Philanthropic Scholarships
"The best way to find yourself is to lose yourself in the service of others." - Mahatma Gandhi

Bio
Jennifer Fisher is Director of Philanthropic Scholarships for University Development at the University of Colorado Colorado Springs. In her role she oversees campus-level scholarship programs, ensuring fundraising efforts lead to accurate and efficient scholarship implementation. She strengthens the critical connection between University Development and the Office of Financial Aid to steward and support donor intent and support campus scholarship administrators. She has dedicated over twenty years of service to removing financial barriers for those who wish to pursue higher education, and has demonstrated her ability to utilize technology by serving as a subject matter expert for the implementation of Campus Solutions and spearheading the Blackbaud Award Management system adoption at UCCS.
Jennifer is an instructor for the Gateway Program Seminar, partnering with College of Business faculty and local employers to guide students through a curriculum focused on career exploration. She enjoys creating co-curricular experiences that expand students' financial literacy and career skills.
Jennifer holds a Master's degree in Counseling and Human Services with an emphasis in Student Affairs in Higher Education and a Bachelor of Science degree in Information Systems and Marketing. She and her husband Matthew are the proud parents of two young children, ages seven and ten. She is actively involved in the Deaf and Hard of Hearing community as a Cochlear Americas volunteer where she shares the story of her son's hearing journey with parents who have recently learned their child has severe to profound hearing loss.